LEGEND OF THE DEMON CAT
Vremena se menjaju, i Chen Kaige, našoj publici najpoznatiji po Zbogom moja Konkubino, se nakon teških drama okrenuo spektakularnoj fantaziji, od 170 miliona dolara, koju Vam sada predstavljam.
I verujte, svaki cent uložen u ovaj film se vidi. Najbitnije, taj raskoš, gozba od vizuelnih efekata, kostima, scenografije uopšte je praćena sa odičnom pričom o japanskom monahu i kineskom pesniku koji istražuju čudne radnje i pojavu demonske mačke, kao što i naslov filma govori, a koja progoni kineskog imperatora i njegovu mu suprugu. Radnja filma je smeštena u vreme dinastije Tang, ali sve to treba labavo uzeti u obzir.
Film je rađen po romanima Baku Yumemakura , japanskog sci-fi pisca, i koji je veliko ime u tom žanru uopšte u svetskim razmerama. I ceo film je internacionalni melanž i jedan od retkih kineskih filmova gde je japanski akter predstavljen pozitivno. Dakle, ovaj praznik za čula treba obavezno pogledati a veliki majstor Kaige je dokazao da je i dalje u formi i da tek treba očekivati njegova najbolja dela!
Ocena:9/10
Režiser:Chen Kaige
Scenario:Chen Kaige,Wang Hui-ling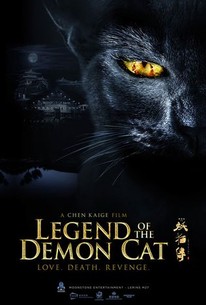 Komentari
Стоматология в Москвe americandental.ru
https://americandental.ru/
Нам доверяют многие.Комплексный подход. Гарантия качества. Быстрое лечение. Услуги: Правильный прикус, Отбеливание, Восстановление зубов.
americandental.ru

Autor Asnagycle — 16 Dec 2021, 11:35
Dodaj komentar