CRAZY SAMURAI MUSASHI
Apsolutno lud i jedinstven film. Naravno, samo su japanci ovo mogli da snime.
Podnaslov filam je 400 vs 1 i to je sve što treba da znate o filmu. Ono što sledi oduzeće Vam dah:77 minuta neprekidne borbe jednog samuraja ,Musašija, protiv 400 boraca u borbi mačevima. Kakva borba! Imate utisak da je snimljena u jednom kadru, i umorićete se samo od gledanja. Kako li je tek bilo glumcima,pravim akterima ove priče? Sa minimumom dijaloga, a maksimumom akcije ovaj film je svoj žanr dosegao dovisine sa koje gleda sve ostale filmove.Il, što bi rekli klinci, obrnuo je igricu.
Naravno, film ima neke momente koji nam izgledaju čudno,npr zašto uporno borci napadaju Musašija jedan po jedan, ali takav je kodeks samuraja. Naprosto, nepojmljivo im je bilo da se drugačije bore jer im je to bilo nečasno. No, to ne umanjuje uživanje u filmu.Gledati!
Ocena:8,5/10
Režiser i scenario:Yûji Shimomura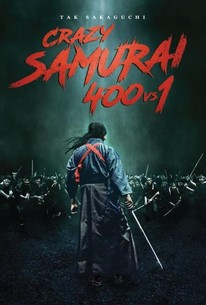 Komentari
Do you like it?
https://linktr.ee/DELORASLacey15

Autor KathyGer — 15 Apr 2021, 10:34
Dodaj komentar