IN THIS CORNER OF THE WORLD
Ako su Vam prve asocijacije na japanski film samuraji i adapatacije mangi, nećete pogrešiti. Opet, ima i priča, koje odstupaju od epike i dolaze na teren ono što bi ljubitelji fraza nazvali toplom ljudskom pričom.
Problem između mene i toplih ljudskih priča je što je tanka granica koja ih deli od patetike i "varanju" na emocijama. Sa ovim filmom, srećom, stvari stoje drugačije. Autor ,Katabuchi, se dostojanstveno, odnosi i prema junakinji svog dela Suzu, koja u svom običnom životu, koji je život skoro svih japanskih žena, u periodu pre i za vreme Drugog sveteskog rata, zahvaljujući svojoj umetničkoj crti , pokušava da osmisli svoj život na drugačiji način. Film ne samo da prati život Suzu već i verno prenosi svakodnevni život Japana sve do tragičnog bombardovanja Hirošime.
Prva polovina filma je malo sporijeg tempa, i verno sledi magu po kojoj je rađen ovaj film, ali druga polovina , sa akcentom na poslednjim godinama rata, i svim tragedijama koje rat donosi, nas ostavlja bez daha i podseća da animirani film nije samo zabava za decu.
Za razliku od nekih drugih ratnih naslova, nešto nade se nazire na kraju, pa izmami i poneku suzu na licima gledalaca. Sva preporuka!
Ocena:9/10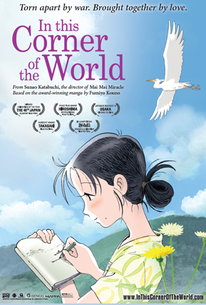 Komentari
Dodaj komentar