THE WITNESS
Novi korejski triler? Hm,poslastica, zar ne?Pa, izgleda da ipak ne.
Da ne budem pogrešno shvaćen:film nije loš. Priča o serijskom ubici je stavljen u drugi plan u odnosu na nekkavu modernu kritiku društva, jer kao što naslov filma kaže, niko ne želi da bude svedok ubistva.Zaboga, to će se loše odraziti na cenu nekretnina!Nač glavni junak slučajno jedne večeri pogleda tamo gde nij hteo i eto, nevolje na vidiku. Dodajmo tome i jednog netipičnog ,staromodnog detektiva koji prčka tamo gde niko drugi neće, eto nama krimića koji kao d aje došao iz neke druge epohe.
Kako god, film o serijskom ubici morao i da ispoštuje pravilo da lik ubice bude jak,upečatljiv, da nam ostane u pamćenju i da ga se plašimo. Ovde to nije tako i zato se film nije mnogima dopao. Ali, ostali delovi priče i filma su više nego dobri, pa kompenzuju navedeni nedostatak.
Da li biste Vi postupili kao junak filma ili ne,to ostaje na svakome od nas da odluči. Odluka da gledat ovaj film ne bi trebalo da bude tako teška,gledajte ga!
Ocena:7/10
Režiser:Kyu-Jang Cho
Scenarista: Jo Kyu-Jang, Young-jong Lee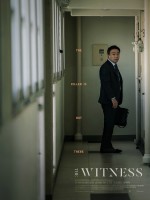 Komentari
casino real money http://onlinecasinouse.com/# real casino slots cashman casino slots casino online slots

Autor tertthani — 19 Sep 2020, 18:40
Dodaj komentar