BATTLE OF JANGSARI
Sasvim solidan ratni film koji opisuje jednu zaboravljenu epizodu iz 1950. godine,kada je ela jedna jedinica južnokorejske vojske bukvalno žrtvovana!
Priča nas vodi u jesen 1950. godine ped iskrcavanje saveznika-čitaj Amerikanaca-u Inčon, čime s kasnije potislivojsku Severne Koreje skoro do Kine- Ali, da bi se glavni napad uspešno izveo, trebalo je odvući pažnju na sporedna dešavanja.Jedna od tih bitaka je i ova, gde je odred od 772 malda vojnika poslat na desant bez podrške i obuke.
Scene bitaka i akcione scene uopšte su odlično snimljene i stoje rame uz rame sa mnogo većim i poznatijim naslovima. Delimično je problem sa onim ostalim scenama,koje su preduge za svoje dobro, i kvare utisak, naročito scene sa Megan Fox,koja blage veze nema sa glumom.No, dobro, to neće pokvariti opšti dobar utisak.Kome nije dovoljno razaranja i ratova, ovo je obavezna lektira!
Ocena:7/10
Režija i scenario: Kwak Kyung-taek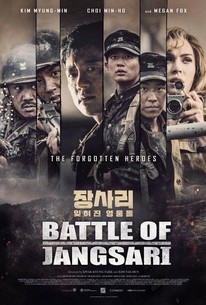 Komentari
Dodaj komentar